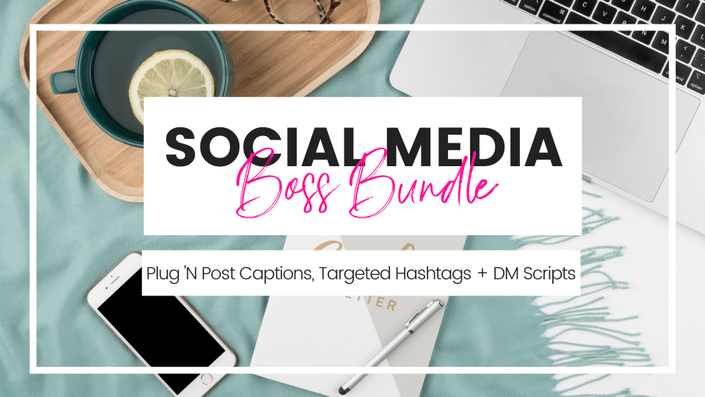 SOCIAL MEDIA BOSS
365 Day Social Media Content Calendar with Plug 'n Play Templates
Tired of stressing over your Social Media content?
IMAGINE NEVER HAVING TO WRITE SOCIAL MEDIA CONTENT FROM SCRATCH AGAIN...
Introducing Social Media Boss Bundle!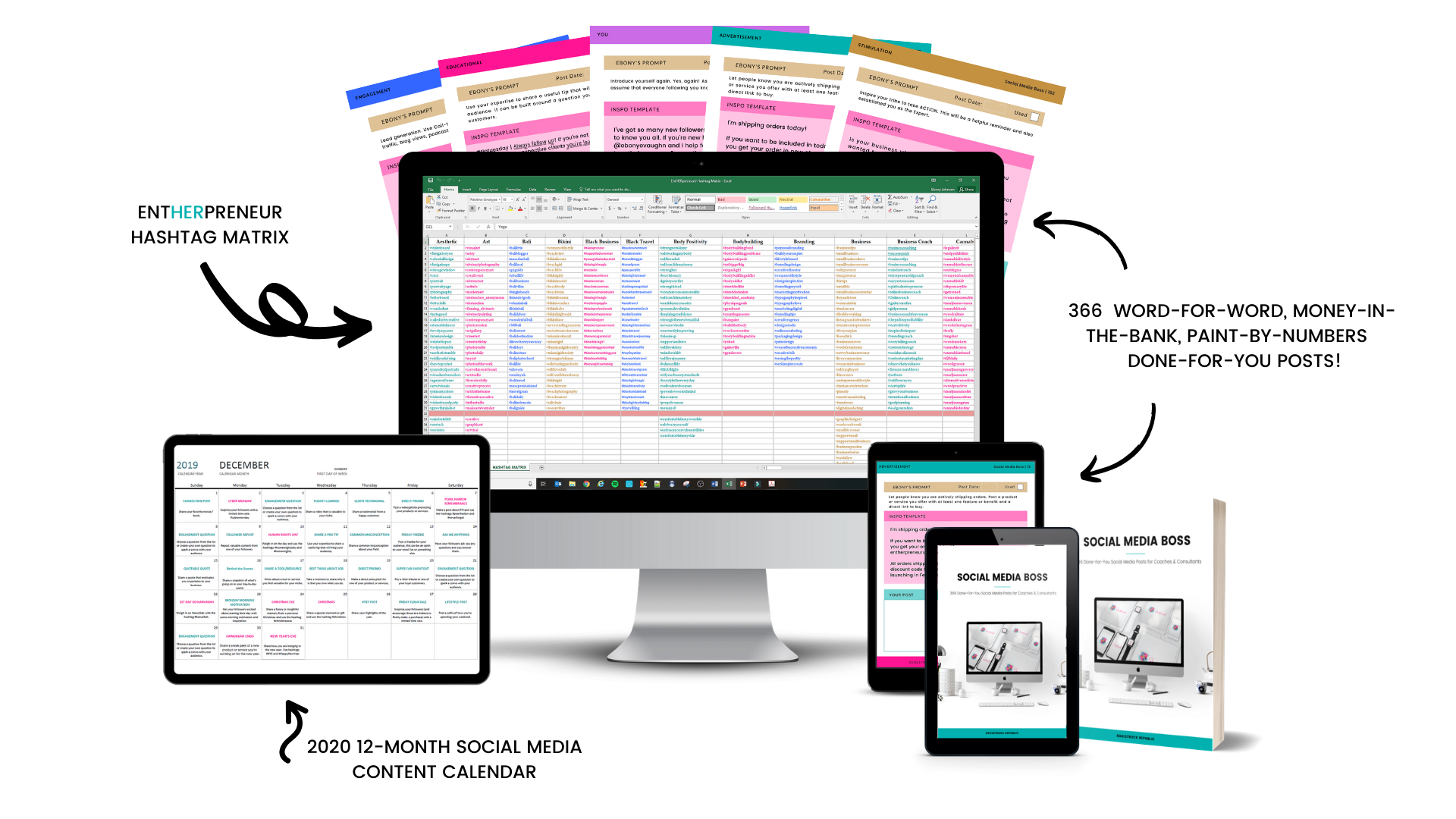 The Social Media Boss Bundle is your ultimate collection of 366 word-for-word, money-in-the-bank, plug-n-play social media post templates, 366 daily high converting social media prompts and 3800+ engagement and visibility boosting hashtags that will have you selling out your next offer in 80% less time.
64% of entrepreneurs are spending 6 hours per week creating social media content and 37% spend 11 hours or more.
That's crazy talk.
I mean, 6 whole hours is A HUGE time investment. Especially, when that's time you could be focusing on more important income-generating activities in your business.
If you are here, it's probably because you have a really great service to offer, but don't know where to start with social media and online marketing in your business. You want to figure out how to attract thousands of raving customers and generate revenue to keep your business going without spending.
Am I right?!
No worries, I've got your back! I'm here to help, that's why I created this From Follows to Dollars: Social Media Marketing Guide so you can turn onlookers into buyers with a clear digital marketing strategy.
Traditional marketing is DEAD. With over 1.47 billion active Facebook user, nearly 1 billion users on Instagram and over 336 million users on Twitter, now is the prime time for small businesses, creative entrepreneurs and freelancers to leverage social media to increase sales and build brand awareness.
With the Social Media Boss Bundle, you'll be able to:

Skyrocket your social media sales with 366 social media posts proven to pull in more profits.
Create a failproof social media posting plan to optimize engagement and maximize your sales.
Never again stare at a blank screen wondering what to post or what to say.
Remain consistent and pump out cash-generating social media content on repeat.
Amplify your authority with content that positions you as the go-to expert in your niche.
Humanize your brand and build authentic relationships with your audience.
Promote your business without feeling "salesy" or over-selling.
Eliminate the stress and overwhelm of trying to come up with ideas of what to post, when or what to say.
Get INSTANT access as soon as you complete your transaction.
This bundle is for:
Coaches and consultants who are overwhelmed by the idea of using social media for their business' marketing plans, but know that it is essential for the future growth and well-being of the organization
Creative entrepreneurs have an interest and desire to establish a presence on social media.
Bloggers and freelancers want to increase your social following while decreasing the time you spend working on social media?
Service-based entrepreneurs who want to take control of their social media strategy


Here's What's Included...
The 2020 Social Media Content Calendar consists of 366 days of social media prompts designed to get the party started on your newsfeed. ($147 Value)
366 Done-For-You, word-for-word, money-in-the-bank, paint-by-numbers social media post templates strategically crafted to win buyers. ($225 Value)
EntHERpreneur Hashtag Matrix is a collection of over 3800+ researched and targeted hashtags in 130+ categories to boost your business engagement, reach and visibility. ($99 Value)
GRAB YOUR SOCIAL MEDIA BOSS BUNDLE AND RECLAIM YOUR TIME
Your Instructor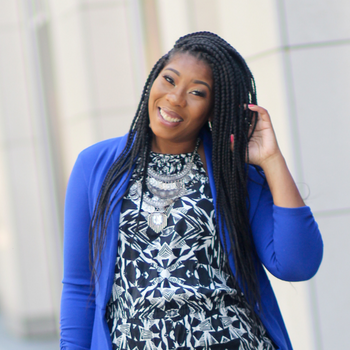 I'm Ebony Evaughn, your favorite Business Strategist and founder of EntHERpreneurU.
Coaches and course creators rely on my strategic, solution-driven business sense and uncanny business development superpowers to transform their skills, talents, and ideas into successful coaching programs that pull in consistent revenue while getting your clients' braggadocious results month after month.
If you're ready to turn your struggles into streamlined processes, your confusion into clarity, and your woes into wins, pull up on me inside Kingdom Built at https://entherpreneuru.online/kingdombuilt.