Ready to boost your visibility?
Creating your product or service comes easy for you because it's your business sweet spot.
But when it comes to promoting your business on Instagram you end up staring at your bangin' post about your amazing business with only 5 likes and one of those is from your mom who really wants to see you do good.
You KNOW if more people saw your content and know you existed on social media, you could sell out your products and services and build an audience of amazing fans and raving clients.
But you're stuck trying to figure out how to hack the Instagram algorithm to spark engagement and boost your sales. 
I get it. I've been where you are.
​
That's why I created the Daily 7: Instagram Engagement Challenge. A 7-day challenge strategically designed to jumpstart the Instagram algorithm to get your content and profile seen by more people using one simple rule.
​
Introducing…
Daily 7: Instagram Engagement Challenge
A 7-day challenge perfect for entrepreneurs who want to boost their visibility, reach, and engagement so you can build your audience and attract their dream clients.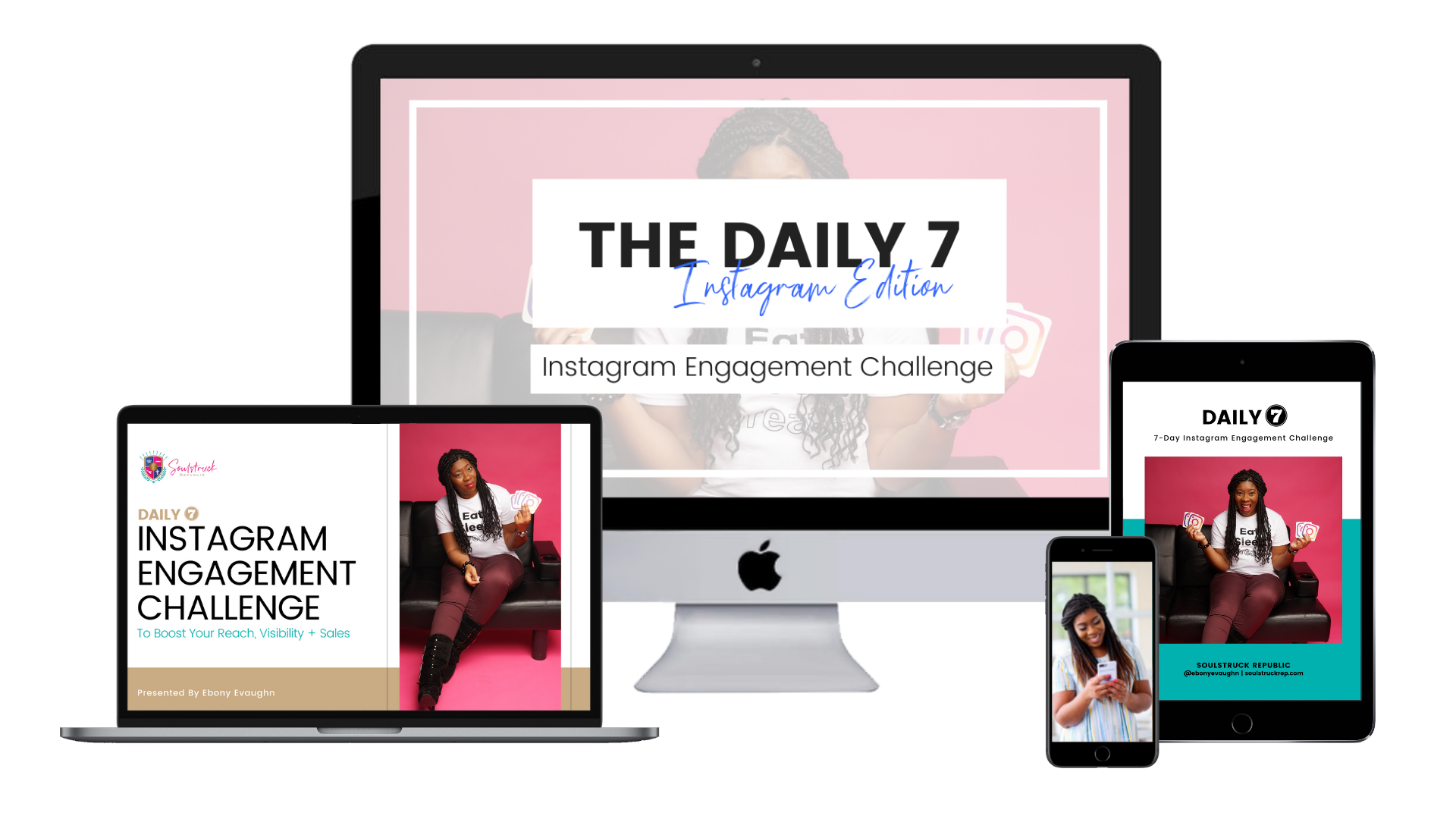 This Daily 7 Challenge will help you …
Skyrocket your Instagram visibility with a day 7 days engagement strategy to boost your reach

Create a failproof Instagram strategy to increase engagement and boost your sales

Hack the Instagram algorithm to get your content in front of more eyeballs

Amplify your authority while positioning yourself as the go-to expert in your niche

Humanize your brand and build authentic relationships and community with your audience

Promote your business without feeling "salesy"

Eliminate the stress and overwhelm of constantly declining reach on the Gram
This Challenge Won't Be Around Forever:
This Challenge is a limited-time deal as I normally only offer this in my Kingdom Built Society membership, but for a limited time, I'm making this challenge available to the public.
Are You Ready to Grow Your Audience?!
Listen you know the value of having an engaged audience. You know how what getting your products and services in front of the right audience could mean for your business… and life too! Stop wasting time posting amazing content that only gets pushed out to 5 people and start boosting your visibility so more of the right people see your content.
Jumpstart your visibility and grow your audience with this easy-to-follow 7-day Instagram engagement challenge.